Just Released!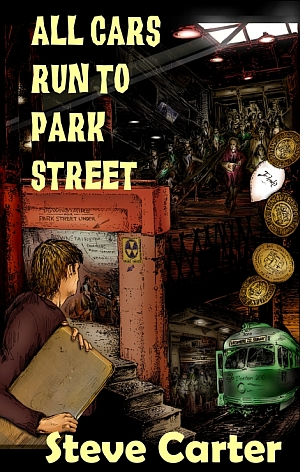 Steve Carter's first novel, All Cars Run to Park Street, captures Boston's music scene in the late 60s, and is equal parts literary romp, love story, and historical fiction.
It's 1968, and Jim is an English major at UMass/Boston. He's a blues bass player, a poet, and opposed to the Vietnam war. When he graduates, he'll lose his draft deferment, so he is considering the underground railroad to escape to Canada. Then he meets Eva. Eva was born underground in the Boston subway. Her mother works in the flower shop at Park Street Station, her father in the information booth. She's 22 and has never been above ground. Together, they explore an underground world that spans time and space. As Jim grapples with the possibility of escaping underground, Eva may be ready to go above.
About the Author
Born in Weymouth, Mass., and a lifelong resident of the greater Boston area, Steve Carter is a jazz guitarist, bass player, and writer. He taught music and English at Berklee College of Music in Boston. He now lives in Dover, NH.
$18 USD
$4 shipping (within the continental US)