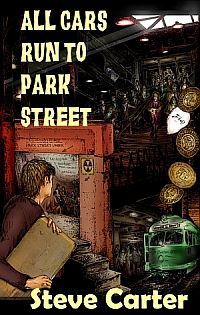 Reader Reviews & Comments
All Cars Run to Park Street by Steve Carter is a sweet ride. Boston in the late 1960s teemed with soulful blues music in the air, protests and poetry on every street corner, and love lurking in the most unusual places. Carter brings the reader behind the 60s Boston blues scene and delves deep into the nether land of the underground Boston subway universe.
Jim, the main character, is based on Carter&apostrophes lean college days at UMass/Boston when school was the only thing between him and the draft. Carter's book takes a hard look at a turbulent time in history when the borders of reality and fantasy blurred, and anything seemed possible. Jim meets Eva in the busy Park Street Station of the Boston T subway system. He soon realizes that this is not just a stop for Eva, this is her permanent residence. Jim is contemplating ways of hiding from the draft after graduation, while Eva is deciding if she wants to escape her sheltered life of hiding underground. Can their two worlds coincide?
Carter has a bold style of writing that embraces both literary and contemporary prose. All Cars Run to Park Street flows with a comfortable nostalgia entwined by uncanny mystery, heady history, and tender romance that makes for an enjoyable journey.
-- Diane Kane, author
Back in the mid '60s when I was managing the Odyssey coffeehouse on Beacon Hill's backside Hancock St, I once paired The Hallucinations and The Blues Children on the same bill. Little did I imagine that the event would end up in a novel by Blues Children, and Berklee School of Music Faculty member, Steve Carter.
Steve draws from his experiences in a highly fictionalized recounting of his adventures while sharing the flavor of the highs and lows of the scene back then. He took me back to a recalling of not only the Odyssey, but the Moondial, the Catacombs, the 7s and the Rat. He resurrected and expanded on my fantasies of what subterranean mysteries lie just around the bend of MBTA tunnels.
If you are looking for a read that will arouse some nostalgic memories of your own, check it out.
-- David Wilson, former editor of Broadside of Boston
If you are a guitar picker or an enthusiastic music lover, have an interest in trains and tunnels, and enjoy unique characters, pick up a copy of Steve Carter's new novel All Cars Run To Park Street.
This is a fascinating novel-memoir about a 20-something guitar player trying to make it in Boston in the 70s. It is also a historical piece about the famous Boston MBTA (Massachusetts Bay Transit Authority) and it's conception and history. At its center is an imaginative love story close to the heart of the author. Carter bares his soul in this novel and infuses his characters with the hearts and minds of the real folks they represent.
Carter is a serious accomplished musician and the adventures of his protagonist spring from real events and his vast musical knowledge. The fusion of reality and imagination make this an unusual and colorful story, intriguing from the first page to the last.
--Toni McFarland
Full Disclosure: Toni McFarland, my wife's cousin, was the inspiration for the character Cuz in my book.
$18 USD
$4 shipping (within the continental US)