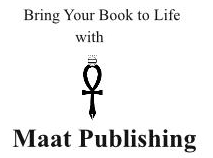 Poetry in the Park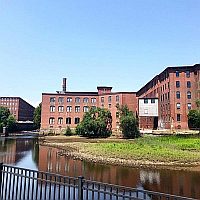 In person, recorded readings co-facilitated by Michele Lowry and Marilynn Carter at Henry Law Park, Dover, NH, and other parks on the seacoast. In various relaxed settings in nature, we share stories, read poems, and talk about our process for writing our poetry books. It is our hope that through our readings, you become more interested in poetry and possibly become inspired to explore writing and sharing your poetry with others.
For more info about us:
Michele Lowry at: nikoenaturaltherapies.com
Marilynn Carter at: manypathsforhealth.com
Poetry in the Park 15
November 29, 2021
Outlook Tavern, South Berwick ME
For our recording today, we were at the Outlook Tavern in S. Berwick, ME on their outdoor patio for our last in-person reading for 2021. We talked about poetry being an art form to express and step into our gifts. I read "Home," about our grandson's birth, receiving Reiki and the magic of the stars! Second, I read "The Box," about storing memories, experiences, expressions of love brought back to life.
Michele:
We had a blast at the Outlook Tavern with another great waitress, thanks to Adrianne, and spectacular service. Remembering our animals connect to every thought we have, Sunshine shared a poem about Absence. This is to remind me of our connection while i travel south for the winter. Thanks to everyone who listened in.
Wishing everyone Happy Holidays and a wonderful New Year! See you in 2022!!
Poetry in the Park 14
November 18, 2021
Riverwalk Dover NH
Marilynn:
A spectacularly warm November day. Before recording, we got lunch at the Cocheco Cafe to enjoy outside on their patio. Nearby, a squirrel sat on a fence post looking directly at us, at times closed it's eyes with its hands on its belly very much resembling a Buddah. We were grateful to be gifted a visit from this magical visitor whose spiritual meaning symbolizes: guidance, joy, love, playfulness, abundance, wisdom, clarity, inner peace, letting things go, synchronicity, a time to plant seeds to reap benefits, and to follow the magic for it will lead you to the desires of your heart. I read Mesmerized first then Transformed. Of interest for week 14, if you add the numbers 1 + 4 = 5, and #5 relates to change which my second poem was about; I love how unplanned things and encounters align with perfect timing!
Michele:
As we strolled with Shekinah along the river walk, we were looking for the place that called to us for this week's Readings. We didn't realize until afterwards that the bench next to us had an inscription on it about 'sitting here and creating your dreams'. What a perfect location to bring poetry and its creativity to our time together. This week's focus was on HOPE and to never give up!! I shared a story and poem about Sunshine's health issues in 2019 and how she predicted her healing through a poem. This was at a time when I became so close to her through energy work, prayer, support from other practitioners and the many lessons learned along the way to her full recovery.
Poetry in the Park 13
November 10, 2021
Outlook Tavern, South Berwick ME
Marilynn:
Due to the unpredictable weather, instead of recording in a park, we visited the Outlook Tavern with a lovely view of the golf course. We knew they had a large patio that is surrounded in plastic which helps to buffer the wind and rain. I read, "Wee Hours," that explores the birthing of a poem and also "Between Two Worlds" which came forth from the dream state and as Michele listened, she said the poem took her somewhere else! An interesting tidbit; the first poem was on pg 34, and the second on pg 43; both pg numbers add up to a "7" and one numerology interpretation is "victory/perfect life power". Michele shared a poem about trust and the power of Travel.
Michele:
Today we were at The Outlook Tavern in South Berwick. After a major rain storm, the sun returned and we had a ton of fun sharing our poetry..
Poetry in the Park 12
November 5, 2021
Old Landing Park, Durham NH
Marilynn:
We were gifted another spectacularly sunny day for recording with the magic of yesterday's new moon, a time of new beginnings and endings as we shared stories and poems. I read my poem "Awake," about discovering how the power of words, feelings, emotions are truly amazing gifts. My second poem, "Golden City," was inspired from the dream state/alternate universe.
We were joined by ducks, seagulls and an egret. Just like the blue heron, the egret, symbolism focuses on calmness, to be at peace and in balance with ourself and the world. An Egret is direct, gets to the point, teaches us to look deeper into our life, trust in our innate wisdom, be self-reliant and follow our own path.
Michele read a poem from Sunshine that talks about spirit animals and elements showing up for support. Below is a document describing each briefly. (The following info is credited to: Animal-Speak Pocket Guide, written by Ted Andrews.)
Turtle – Promise – Take your time in your pursuits, trust in mother earth, you will have what you need
Buffalo – Abundance – Abundance awaits if you act with respect and honor, now is the time for right action, short cuts and ingratitude (not in a place of gratitude) creates problems
Sun – Life-giving energy that's necessary for us to survive – life, energy, positivity, clarity, confidence
Hawk – Guiding Vision – spirit vision and guardian ship surrounds you, be patient and observe, you will see the opportunities. Signs are clear
Otter – Use skills – others recognize your skills, use your creativity and your skills in new ways, make sure you can work and have fun at the same time
Mother Earth – a personification of nature that focuses on the life giving and nurturing aspects of nature by embodying it
Ancestors – connection to your bloodline and to all living things, supportive and protective, ready to offer guidance when asked
Gratitude – being thankful, show appreciation, return kindness
Poetry in the Park 11
October 28, 2021
Hilton Park, Dover NH
Marilynn:
Today we enjoyed an unexpected visitor; a beautiful blue heron spread its majestic wings as it flew in front of us, capturing our attention for quite awhile until we realized the wind had eased, the sun warmed us and we began recording. As this was Halloween week, I decided to read "Pumpkin Life", a poem about purpose, and Michele read "Stand in Your Power". Purpose and Power, two amazing themes blended well with each other. My second poem was "Cooking" and we talked about the process of cooking and my cookbook, No Fret Cooking which comes with two original CDs written, composed, and performed by my husband Steve Carter. Michele ended with another of Sunshine's poems, "Find the Joy" which definitely got us laughing again. Before ending, we lost internet connection and what may have seemed a little abrupt was very natural.
Michele:
Today we were gifted with a Heron and learned patience, along with a beautiful rescue Husky dog at the very end of our time. Then with the flow of our experiences we lost the Internet!! We felt grateful for these organic experiences and hope you enjoy our poems and shares this week.
Poetry in the Park 10
October 20, 2021
Ellis Park, York Beach ME
Marilynn:
This week we couldn't get a computer connection, I forgot our set up table and Michele her poetry book so once again we went with the flow, just like the ocean, teaching us to be open to change and possibilities. Michele was able to record on her cell with her arm propped up on a backpack as we shared a crate to sit on. I wanted to record at the beach with the park behind us, so we could see the rocks and hear the waves as this environment would blend well with my poem, "Revisited", an experiential poem about a past life from Atlantis. Michele had never heard this poem and after she mentioned her horse Echo had come from Atlantis; we were certain we three connected there. Instead of reading a poem, Michele led everyone through a meditative exercise to see if they received any guidance and suggested everyone journal to see if a poem comes forth. We ended with my poem, "Cleared" a follow-up to to the first poem I read where the lessons from that past life were evident and learned.
We invite you to listen to our podcasts with the hope they inspire you to explore the art of creative writing. Our poems and discussions often tend to have a spiritual element and this week was no different as we talked about past lives, channeling, animal helpers all while having a fun afternoon.
Michele:
WWe had so much fun with flowing with technology. We let go of expectation and sat on a milk crate with zoom on my cell phone and a beautiful view of the ocean.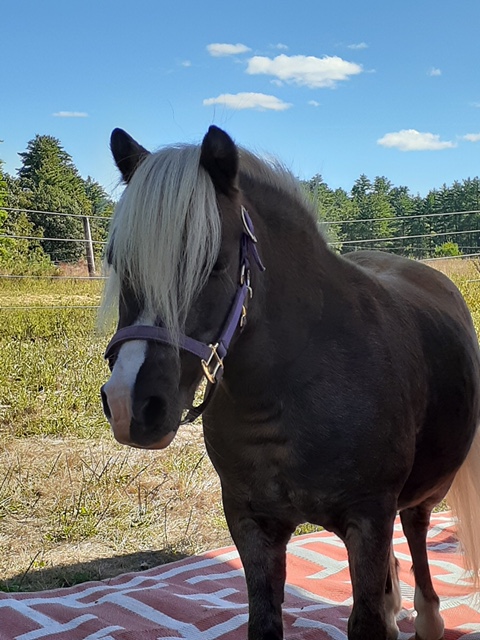 Poetry in the Park 9
October 9, 2021
Ellis Park, York Beach ME
Marilynn:
As it was a holiday weekend, many who wanted to attend asked if we would save A Penny for Your Thoughts for another gathering. As the work we do is about following the signs, we decided to wait until springtime for this happening to allow for more to participate. Good thing we did, for we experienced a lot of technical challenges; no surprise, as we are right in the middle of Mercury Retrograde! For those not familiar with this astro event that happens every year at least 3 different times, often one can encounter mechanical difficulties, hence the computer glitches. Anyway, Michele and I are used to going with the flow and this week was no exception. As we have been encouraging others to participate, we decided to read a poem that the other had written. I read Sunshine's latest poem, "This New World" and Michele read my poem, "Taste of Fall". It was an interesting exercise getting into the rhythm of reading someone else's poem. Diane Kane, a local author, attended, was very patient, and open to, however, the day unfolding. We enjoyed a wonderful conversation about writing, inspiring others and invited her to read one of her poems. She accepted and was our first guest to read one of her poems, which you will have to check out on our latest recording. A big thank you to the Universe, today was perfectly orchestrated!
Michele:
We had an interesting day of allowing and patience. We had one person, Diane, join our event. We had some technical challenges (mercury is in retrograde after all). While i was finding a resolution, Marilynn was chatting with Diane. She accepted our invitation to be a guest and read one of her poems. We had a wonderful conversation, shared poetry and she was inspiring as she shared all she is doing for herself and others around books and publishing.
Thank you Universe, today was perfectly choreographed.
Poetry in the Park 8
September 27, 2021
Henry Law Park, Dover NH
Marilynn:
We settled in to Henry Law Park this week following a walk to the outdoor arena where we got rained on!! We were guided once again by the site of a penny. The rain stopped. This is two weeks in a row we have seen a penny as we begin our session.
Michele:
Technical Difficulties: The video stops abrubtly at the end because of laptop battery running out
A PENNY FOR YOUR THOUGHTS: We were inspired to offer a gathering on SATURDAY OCTOBER 9th, from 1-3pm, at the gazebo, ELLIS PARK, Short Sands, YORK ME. We will be in a sacred circle and create the flow of inspiration together. A Community Poem will be created as we each share words that come from within our place of knowing.
Bring a chair, drink, open thoughts, journal
See you at the Gazebo next week.
Poetry in the Park 7
September 21, 2021
Hilton Park, Dover NH
Michele:
This week we are at Hilton Park in Dover. Our conversation is based on energy, awareness, numerology and the poetry from Marilynn and Sunshine. Nature once again provided us with wonderful Fall weather. We welcome your feedback, poetry and how awareness is aligning for your life.
Poetry in the Park 6
September 17, 2021
Great Island Common, Newcastle NH
This week we were at Great Island Common in Newcastle; definitely an interesting day for going with the flow. Before we began, we experienced 3 signs. While setting up, Michelle spotted a red tail hawk; then a friendly couple holding hands walked by, smiled, waved, and shared their story saying they have been married 58 years and every day they would walk this path together; and as we began recording, a ladybug walked across the computer. Hopefully you can easily hear the whole recording as a large tour bus drove up, parked in front of us, left the motor running as 50 people exited to view the beautiful ocean behind us and take pictures! On the plus side, we had an instant audience for Poetry in the Park as we each read two poems
3 Signs:
Red tailed hawk – messengers, bring guidance, take responsibility, lead others, be of service, their red color relates to love.
Couple - Joy, love, longevity, partnership
Ladybug - Change, luck, great fortune, protection, love
You may want to think about what these signs mean to you.
Poetry in the Park 5
September 8, 2021
Ellis Park, York Beach ME
This week, we returned to record in the gazebo at Ellis Park, Short Sands. As my husband and I were married 53 years ago on this day, Michele and I decided we would have a Celebration of Love theme for this recording. I read, "Life in the City," a memoir poem for my husband and Michele read, "Your Sweet Spot". My second poem, "Foam," was about joy and Michele's second poem was "Wee, Lets Party". What a fun, different way to celebrate our special day at the ocean, reading poetry, enjoying ice cream and watching the wild waves crest against the rocks and sand.
Poetry in the Park 4
August 30, 2021
Ellis Park, York Beach ME
We are at the gazebo on Short Sands in York ME. As we would like to encourage more people to give writing poetry a try, we invite you to submit a poem to us that you would like to hear read on one of our podcasts or alternatively, we can send you a zoom link so you can read your own poem. Submit poems to either Michele or Marilynn to either web address above.
Poetry in the Park 3
August 17, 2021
Henry Law Park, Dover NH
This week we decided to each read a meditative poem. Surprisingly, after Sunshine's message last week, I wrote a new poem perfect for this week's theme.
Michele led us into a relaxed state, suggesting we focus on our senses, visualizing the words as we each read our poems. Sunshine's poem about the "breath" was perfect to begin with to open the body, mind and heart, followed by my poem about the spirit of a redwood forest.
Poetry in the Park 2
August 10, 2021
Henry Law Park, Dover NH
I read a poem from each of the three sections in my book: the past, in between, and the present. When I finished reading, Michele said my poem read like a meditation.
Michele forgot to bring the copy of her book she planned to read from; however, she had a notebook of other poems Sunshine had channeled. When we finished reading, she said Sunshine had a message for me: that I was to dig deeper.
Poetry in the Park 1
August 2, 2021
Henry Law Park, Dover NH
I read 3 poems from my newly released poetry book, Doorways, and talked about my process of writing about experiences, dreams, past lives, family, travel and nature.
Michele read three poems from her upcoming poetry book, When Crooked Teeth go Straight, and how all the poems in the book were channeled by her mini horse, Sunshine.